Three to Get Deadly
, Janet Evanovich - completed May 27, 2014
So after I read
Two for the Dough
, I wasn't entirely sure if I wanted to continue the series or if I just wanted to quit at book #2. I'm glad that I went ahead and decided to pick this one up.
Where two was lacking in comedy,
Three to Get Deadly
started it right back up!
Of course it follows the same basic concept as one and two-Stephanie Plum gets handed a big case that
everyone
thinks is too much for her to handle. She calls on Morelli and Ranger to help her out of tough situations, and Lula is the best character of them all.
It was funny enough for me to definitely want to pick up
Four to Score
. Rated 5/5 on goodreads.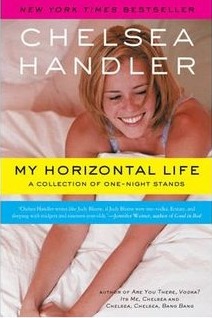 My Horizontal Life: A Collection of One Night Stands
, Chelsea Handler - completed June 11, 2014
I had been wanting to read some of Chelsea Handler's books for quite some time. Then I found Books-A-Million at the Tulsa Hills shopping center here in Tulsa, and they have a really awesome Millionaire's Club that gives you all kinds of discounts on all purchases. Plus I went in there about 3 days after I got dumped, and I cannot be trusted in a book store when I'm emotional. Needless to say, I bought about 8 books that day, this being one of them.
My Horizontal Life
is Chelsea's first book, and it's pretty dang funny. She seems to be completely honest in how she's telling the stories, as it doesn't seem she is holding anything back. Some of these stories are even embarrassing, I'm sure. She even admits to not being able to complete the deed at the end of the book.
The stories make you laugh right out loud as she is telling them. And the fact that she calls one of her roommates Dumb Dumb made me laugh every single time. Again, seeing as how I had recently been dumped, this laugh-out-loud book was definitely what I needed. Rated 4/5 stars on goodreads.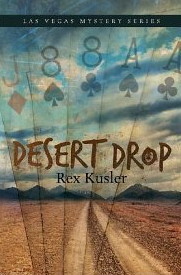 Desert Drop
, Rex Kusler - completed June 13, 2014
This is book #3 in the Las Vegas mystery series that I picked up last summer. If you haven't figured out by now, I love good kindle book bargains from amazon. Amazon had a special last summer that allowed you to buy books for $1 from a certain list of books. This series was on that list, and I decided to go ahead and purchase all three.
I read the first two last summer, but decided I wanted to wait a little on the third (and I believe there is actually more than 3 now as well). This book was a little similar to the first two, in that Alice and Jim get introduced to their case within the first few pages of the book. Then the rest of the book is about them trying to crack the case before Las Vegas homicide does. Both P.I.'s are former detectives, who both gave up the life because they decided it wasn't for them anymore.
The story is pretty good, as the big plot twist in this one is that the person who was murdered was Alice's half sister, who was supposed to be meeting Alice for the first time before she was murdered.
Who the killers are was enough of a plot twist that I guessed the entire time as to who was the second person in the conspiracy. I do not know for sure if I will look into the fourth book yet, but These first three were definitely interesting enough that I enjoyed reading all three of them. Rated 4/5 stars on goodreads.
The Summer I Turned Pretty
, Jenny Han - completed June 17, 2014
I decided to pick this series up after
Katy
told me she accidentally read the third book first, and that she liked it fairly well. I read the summaries on all three of the books and decided they would most likely be pretty good summer reads.
I finished this book in less than a week. I was correct in assuming the book would be a good summer read.
The main character's name is Isabel, Belly for short. She measures her life in summers, and summers at Cousins Beach. For as long as Belly can remember, she's been in love with Conrad, who is the son of her mother's long-time friend Susannah. Belly's whole existence of summers have been spent being an outsider to Conrad, his brother Jeremiah, and her brother Steven. But this summer is one that she hopes everything will change. This summer, "Belly is all grown up," and she's hoping that Conrad will be able to see just that.
But as the summer progresses, Conrad distances himself even more, and Belly finds a new boy to spend time with. And for the first time for as long as she can remember, she is growing irritated with Conrad, and doesn't want to "love" him anymore.
At the end of the summer, startling news is revealed about one of the summer family members, and it causes their whole world to be turned upside down. Belly goes back to her real life full of uncertainty. The epilogue is pretty great though! Rated 4/5 stars on goodreads.
The Line
, J.D. Horn - completed June 18, 2014
I read this book in about 24 hours. This was another one I picked up from amazon's kindle first books. (SERIOUSLY, GO SUBSCRIBE TO THIS SERVICE!)
This book is set in modern-day Savannah, Georgia. I have been to this location one time and I of course loved the history, the verandas, the Spanish Moss, the cobblestone streets, the MILLIONS of pillars on colonial homes! So when I got this particular month's options, a book set in Savannah seemed the perfect choice!
The Savannah Taylors are a group of witches who all possess different powers-all except Mercy. Mercy is a twin, and her twin Maisie was the child born with all the powers. The ancient history of the family is that they are one of 13 families who helped to separate our world from the demons, and now each of them are set up to hep protect "The Line," that is, the line between our world and theirs.
All Mercy has ever wanted out of life was to feel like she belonged in the family. So she approaches Mother Jilo in the hopes that she will help her cast a love spell to hide her feelings from Maisie's soon-to-be fiancee. She knows it's wrong, because Mother Jilo does not possess natural magic like the Taylors do. She tries to take it back, but Jilo cackles and Mercy knows that (for lack of a better term) something wicked this way comes.
Mercy's great-aunt Ginny is found murdered the next day. What happens for the remainder of the book is a series of events that keep you turning page after page. The families are now faced with finding someone to succeed Ginny in holding their part of the line. Mercy battles with her feelings between two men. Mercy goes back and forth to Mother Jilo, trying to discover truth and answers. The families descend upon Savannah to mourn the loss of Ginny and to help provide a little guidance to the turbulent Taylor family.
Mercy receives borrowed power for 1 day from her uncle Oliver, and discovers more truth in that borrowed time than she could ever have imagined. There's also two MAJOR plot twists at the end that help decide Mercy's fate...
This book was really easy to read. I enjoyed it because it is a book about mythical things, but set in a very real place that I've seen with my own eyes. It doesn't copy every other witch book either, and we all know there are plenty of those out there right now. The storyline was unique enough to keep me entertained throughout the whole book. I rated this book 3/5 stars on goodreads, mostly because I was in complete shock at the conclusion of the book.
It's Not Summer Without You
, Jenny Han - completed June 19, 2014
This is the second book of the trilogy by Jenny Han. This one I thought was a little better than the first. In this one, we meet up with Belly in the middle of her summer, but for once it's not at Cousins. She is stuck at home with her best friend Taylor. She attempts to make it a great summer despite not spending time with the Fishers, when she suddenly gets a call from the younger brother Jeremiah that Conrad (love of her life) has gone missing.
Jeremiah and Belly go on a little trip to attempt to find Conrad, all while wrestling with their feelings over the loss of Susannah. What I really liked about this book is that we got to see a little bit from Jeremiah's perspective intermittently. It was a nice little curve ball. The crazy thing about throwing this in there though, was that you could see that Jeremiah has loved Belly
almost
as long as Belly has loved Conrad. Totally cliche love triangle, but totally fitting into the story. Obviously, Jeremiah's feelings cause issues for all three of them.
Even though the triangle was cliche, it was a pretty good story still. Worth the read to continue Belly's story. Rated 4/5 stars on goodreads.
Timebound
, Rysa Walker - completed June 20, 2014
This is yet another book I picked up through amazon's kindle first. This one is a great story about time traveling.
I don't know how many of you are into time travel/sci-fi books, but this is a pretty decent young adult one for it. We meet Kate, whose eccentric grandmother comes around when she is either 15 or 16 and reveals to her that their family has a gene that allows them to time travel. However, Kate's grandfather and missing aunt have somehow gotten their hands on certain points of history, and have completely changed the timeline of the world.
Honestly, this book was a little difficult for me to wrap my head around at first. When Katherine (grandmother) first started explaining things and the CHRONOS key, it was very difficult for me to keep straight and understand. As the book continued to progress, I could follow the thoughts a lot better and actually began to enjoy it. And then it started making me think quite a bit.
My only big issue was that I felt Kate was too trusting throughout the entire book. I feel like if this time traveling thing were a real thing, she definitely should not be spilling her guts about
anything
that is going on. But all she does is spill spill spill. Despite that, I felt the book was very well written, just a couple hiccups with the spilling of the secrets. Rated it 3/5 on goodreads. Would have been 3.5 stars if that were a possibility.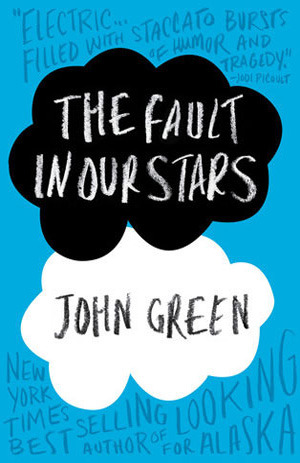 The Fault in Our Stars
, John Green - completed June 21, 2014
Remember in my
Q1 readings post
I said that
Hidden
had shattered my soul a little bit? Yeah this one did too. But I'm sure I'm one of the last people on Earth that has read this, so I'm sure you don't need me to give a detailed summary about it. So here's the skinny:
Hazel Grace has cancer and meets an amazing guy named Agustus Waters at a Cancer support group. The entire book is full of their quick and strong romance. Of course, because they both have previously had cancer, you know something terrible is going to happen to their relationship.
What I loved most about this book is how they treated each other. Yes there were a few dark moments (like Cancer Perks), but for the most part they just lived in their own world of happiness. This book. This book is just horribly beautiful. Soul shattering. So wonderful. Definitely a must read. Especially if you want to see the movie (but I always prefer to read the book before seeing the movie.) I do love just how witty both the characters are. It was an awesome part of the book.
Also, I didn't cry. Trust me I wanted to, but I made myself stop, calm down a bit, then continued. It was just a beautiful book. Rated 5/5 stars on goodreads.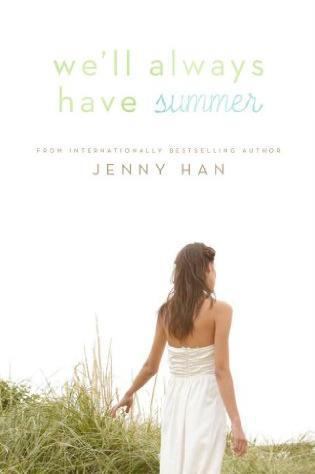 We'll Always Have Summer
, Jenny Han - completed June 22, 2014
This book rounded out the series of Summer books by Jenny Han. I thought this one was pretty good as well, but slightly over-dramatic. But I also know that's what happens when you follow the love life of a 19 year old.
It's been almost two years since we last saw Conrad, Jeremiah, and Belly. We learn that Belly and Jeremiah have been together this whole time, through Belly's first year in college. It's the last week, and we find out Jeremiah is not near as perfect as we think, and they get all crazy and decide to get married.
I can't say that I necessarily liked what happened between Belly and Jeremiah, but I guess everything worked out the way it was supposed to. It was a cute little YA series. Rated 4/5 stars on goodreads.
Make Lemonade
, Virginia Euwer Wolff - completed June 25, 2014
I picked this one up from my library after seeing a couple of my college friends read and love this book. I had a sorority sister that had an internship at World Literature Today - a bi-monthy magazine about literature worldwide. One of their cover authors was Virginia Euwer Wolff, and the sorority sister read this series due to the interview featured in the magazine.
This was another young adult novel, told from Verna's point of view. Verna is bound and determined to go to college, to give herself a better life. She decides to get an after-school job, and calls Jolly, who posted a paper stating "BABYSITTER NEEDED BAD." The actual text is a little unconventional, and the lines are broken up into almost normal conversation. Jolly has two young children, and this story is a kind of coming-of-age story on all the hardships young mothers can face when they have children really young. Very easy to read, a little difficult to read, and a great story! Rated 5/5 stars on goodreads.
If anybody was keeping count, that is
nine
books I finished in the month of June. The reason for this? I didn't read
any
in April, and then I got dumped in May. So I guess I just decided I wanted to drown in books for the month of June. OBVIOUSLY, they were mostly young adult books, so it's not
that
big of an accomplishment, but I'm definitely glad to be reading constantly again. I may not finish that many books for Q3 because I decided that I wanted read the rest of the Game of Thrones series. I'm tired of being surprised at who gets killed!!
What books have you gotten into lately?