Things have been pretty boring in my part of the world nowadays.
In mid-January, I joined a weight loss challenge with my aunt and uncle that was for 12 weeks.During these 12 weeks, I worked my butt off going to the gym almost every day, and did a lot of meal prep. I made myself snacks and lunches, and did a ton of portion control. I kept track of all of this using the My Fitness Pal app. I lost about 10 pound in the 12 weeks, and I am happy to say that I have kept it off. I have definitely fallen off the wagon as far as keeping my meals healthy and exercising regularly, so keeping off the weight has been a miracle.
I have run a little bit, but I haven't done it consistently enough to brag about it. But I have ran in a few races. The first one was in March. It was a 4k trail run, and it KICKED MY BUTT. I knew the trail would be difficult, but I definitely did not prepare myself for just how difficult it would be. We ran in the Turkey Mountain Wilderness area here in Tulsa. The trail was up and down and rocky and muddy and slippery. But I finished it in 40 minutes and 39 seconds. I was super proud of myself. AAAAAND a picture from that day: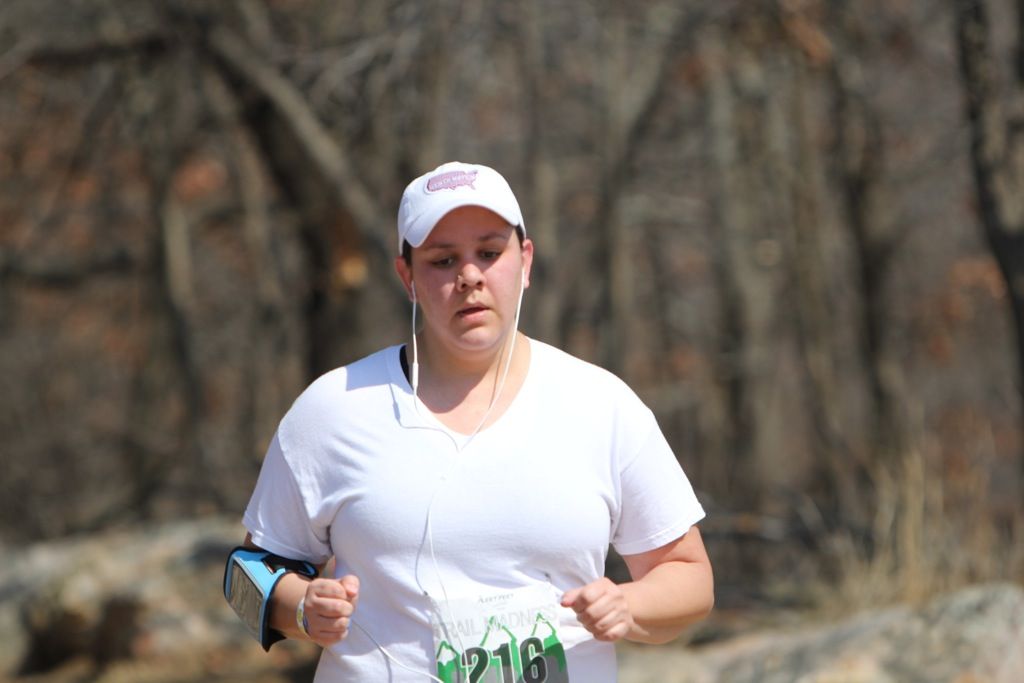 Near the finish line
Then in April I ran the Color Run with one of my friends from high school. We didn't keep track of the time that we finished, but I highly suggest you run The Color Run at some point in time with some friends. It's so much fun!
In May, I decided to run the Burgers & Baseball 5k, also put on by Fleet Feet so that I could have a fun 5k to run in downtown Tulsa while also getting discounted tickets for a Drillers game. This allowed me to purchase an extra ticket so that I could treat my mother to a Drillers game. She has not been to the new Driller stadium, so I thought this would be a fun way to get tickets. As I mentioned before, I have not been running consistently, and downtown Tulsa is pretty hilly. So again, this one kicked my butt too. As evidenced by the photo below. I finished this one in 43 minutes, 16 seconds.
Also at the finish line
Now, I am signed up to walk the Firecracker 5k. I would run it, but I signed up to do it with a friend, and she is having some major back issues and cannot run. So I'm excited to start my holiday weekend off in a slightly healthy manner. It will be followed by an afternoon matinee seeing Wicked with my mom. Unfortunately, after Wicked, I will be working all weekend at the baseball fields. But I guess money is never that bad of a thing to have. It's just unfortunate that I'll be spending my three-day weekend working.
Today is relaxing and doing a whole lot of nothing until I go watch True Blood with my friend Michelle later this evening. Hope you all have a relaxing Sunday as well!!