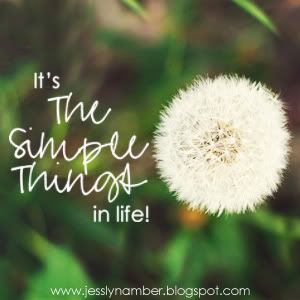 Today I'm doing another link up (I promise things will get to normal posting around here soon!) called
"The Simple Things"
found over at
Jesslyn Amber
. What's the idea behind The Simple Things? Well it's quite simple (tee hee hee), but I'll let the words of Jesslyn explain:
"I
came up with this idea because one of my main goals is to remain optimistic and positive about life and everything that happens in it. Life's a struggle and a challenge, and sometimes we forget all the things that make it so special.
I want to learn to appreciate the simple things and I want to encourage you to do the same. Life's not a race or a contest, and it's definitely not something we should take for granted. Life is about enjoying the little, special, simple joys of our every day!
There will not be a certain structure for this link up! You can participate however you want to. Some days I may simply post a list of things I stopped to appreciate throughout the week...I may only post pictures...or I may write about one specific thing that stuck out to me. It doesn't matter how big or small your post is. I just want to take time to love the little things that make life so wonderful."
So there you have it. Keep it simple and remember what it is that makes you happy. Today's first Simple Things post will be kind of all over the place, so just bear with me.
The Simple Things in life that I love, and that make me smile:
*When my youngest cousins run and attach themselves to me when I come home from school
*Getting to sleep in
*The pretty colors the sky turns when it's been raining all day and the sun starts to set
*Getting text messages that say "I miss you!" because the sender has no idea how much I ache to be in their presence!
*This picture:
Mimi, me, and Jared on my graduation day
*Oh, and this picture:
my best friend Erika and I cracking up
*And how about one more picture for good measure:
Check out my face--in the Florida Gulf ocean for spring break 2011
*This song: