Well friends, a couple years ago I made a facebook note that was 2008 in review, pictures included! I can't remember exactly when I did it that year, but I feel like it is close enough to the end of the year that it JUST MIGHT be appropriate for me to do it now :) (Plus, I don't know how much time I'll have between here and New Year's to sit down and think about everything, especially with my trip to Phoenix coming up so soon!)
So without further ado, here is 2010 in Review: (he he, that rhymed! Unintentionally, of course!)
I rang in the New Year with my friend Kevin in Norman: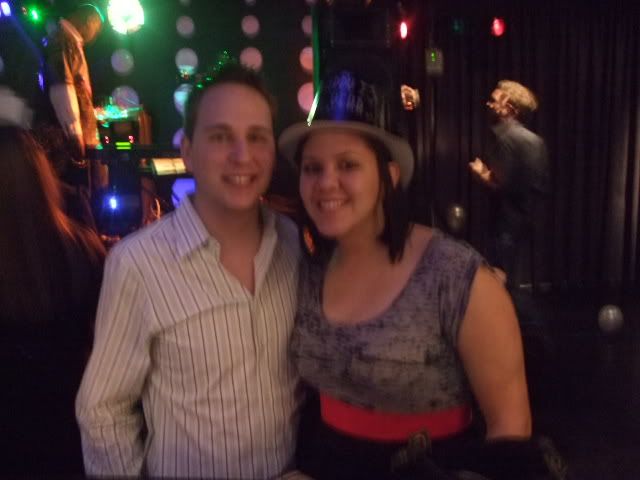 Kevin and I at Seven47
February is kind of a blur, with a few memories of a high school stereotypes-themed date party, and my Valentine's Day Date with Erika: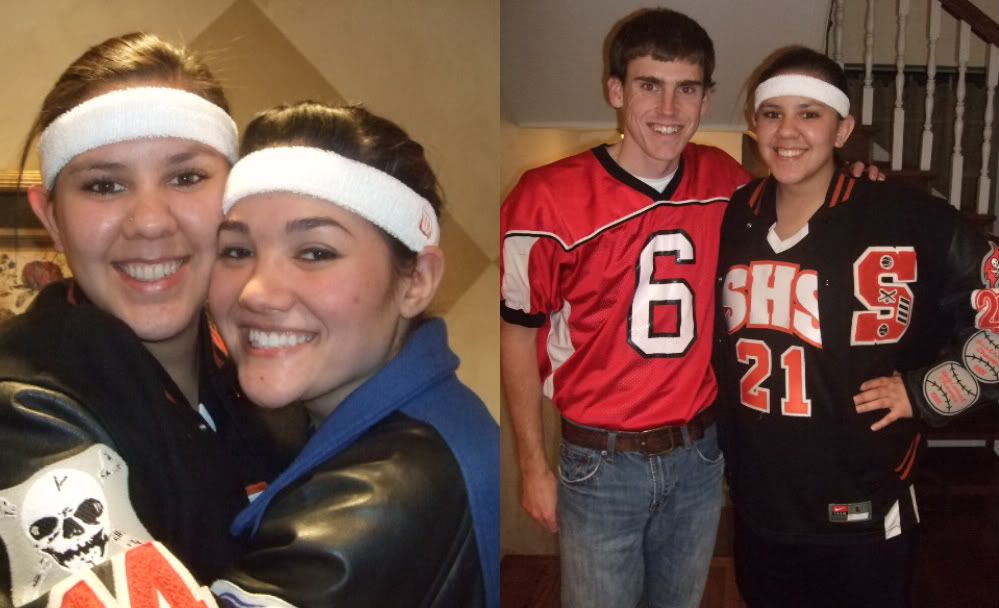 Erika and I; my date Craig and I
March was fun with spring break and birthday parties, and the end of my 4th year at OU coming on the horizon:

Me, Lisa and Caroline; Katy and I (pre-hair cut); Janelle and I: where the friendship started


April is one of the busiest months in sorority land, with our International Reunion Day, Annual Barbecue, Spring BIG/little, and of course more parties to celebrate the school year coming to an even closer end:

BIG/little: G-Lil Jessica, Lil Kristina, me, Big Erika; IRD: Katy, Meghan, Colleen, me, Hannah, Kaitlin

BBQ: me, Katy; BBQ: me, Mallory; IRD: me, Katy


May brought the end of the school year, which included a date party (with my brother in attendance), Erika's graduation, returning home for the summer and attending Tulsa Drillers and Tulsa Shock games with Caroline, and beginning my summer job again: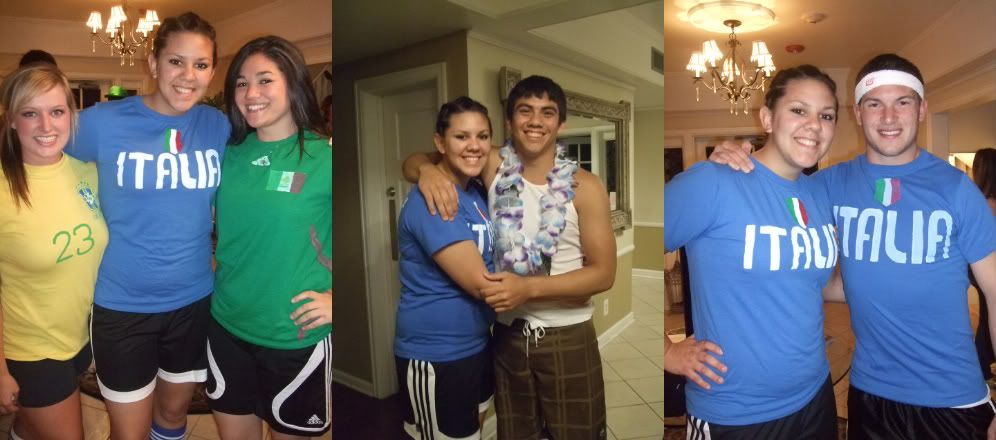 ALL 3 SENIOR DATE PARTY: Sam, me, and Erika, representing the World Cup; me and Jared, with Jared representing Hawaii; me and my date Derek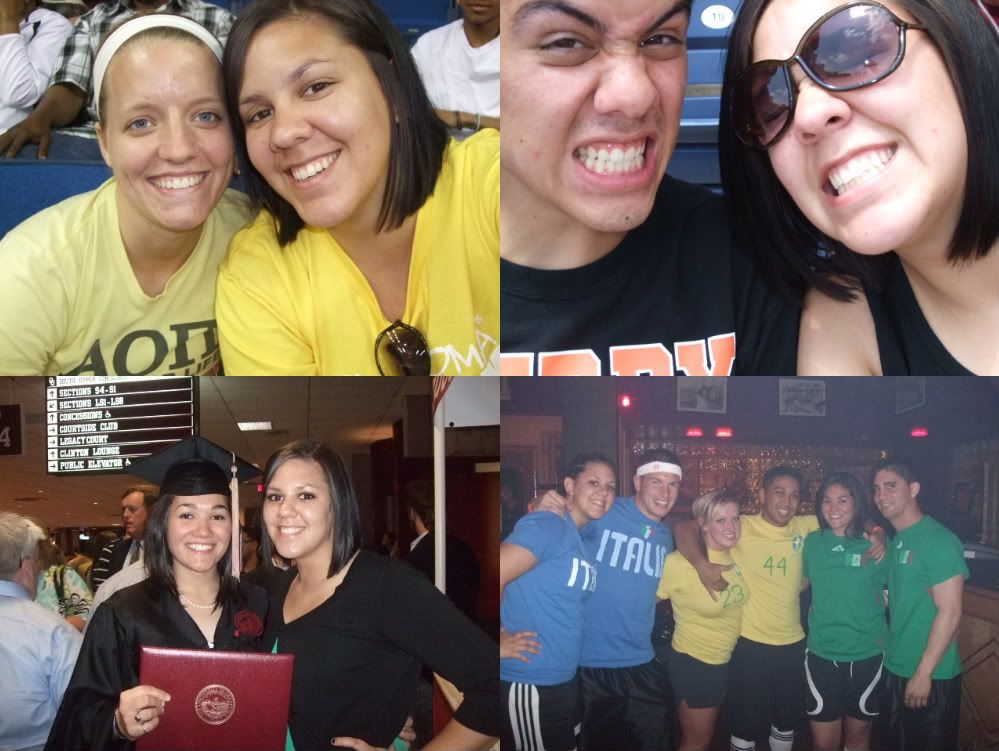 [L-R, top-bottom] Caroline and I at Tulsa Shock; Jared and I at Tulsa Drillers; Erika and I at her graduation; the group I went with to the senior date party (World Cup): me, Derek, Sam, Jesse, Erika, Gio
June meant the beginning of my summer class, the wedding of a good friend from Freedom in Greece, still working that summer job, my first ever no-adult float trip, and a concert back in OKC: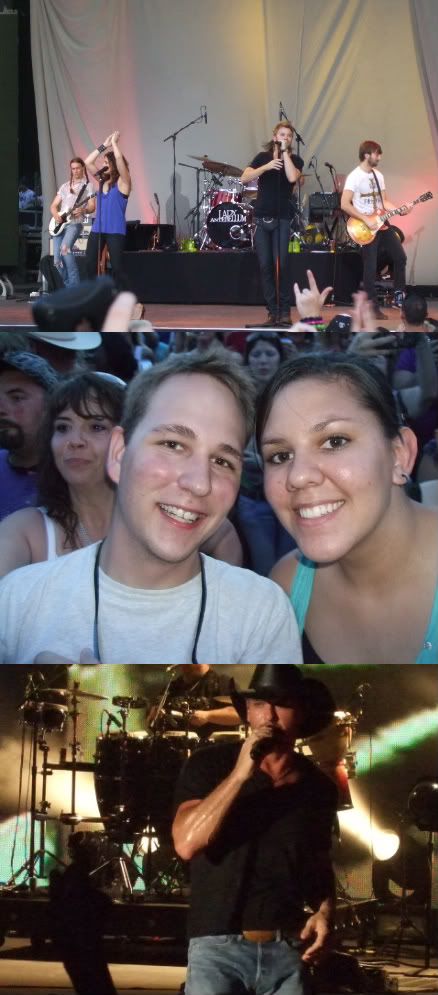 Lady Antebellum on stage; Kevin and I at the concert; Tim McGraw on stage
In July, I finished up Physics II, worked a very long 4th of July tournament, celebrated 4th of July on the 5th (maybe even the 6th), a wedding in the family (with another wedding missed), bought the last things I needed for recruitment, welcomed Katy back from China, and went dancing at the Caravan with Casey. For some reason, I didn't take ANY pictures in July :(
In August, I moved back to Norman for what would be my final recruitment and final year as an undergrad at OU. With Katy being my roommate, the school year was looking to be amazing. The first couple weeks were spent preparing for the girls coming through recruitment, and once recruitment was over we had a few days to relax. I got my second tattoo, and went to a couple parties with my friends. Once school started, I quickly realized just how bad my senioritis would be: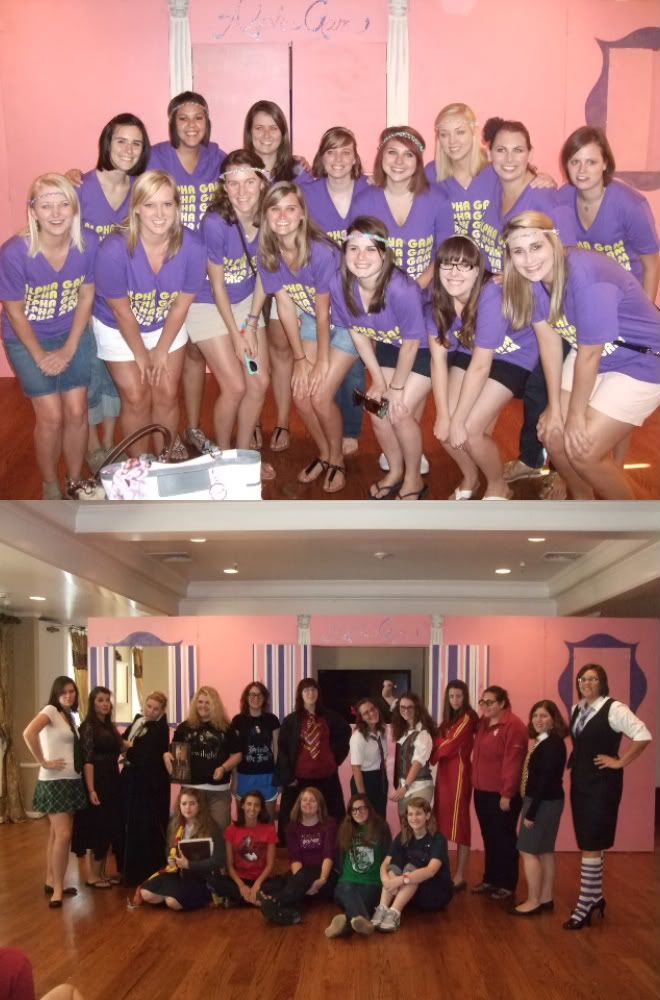 Senior Pledge Class; Harry Potter Day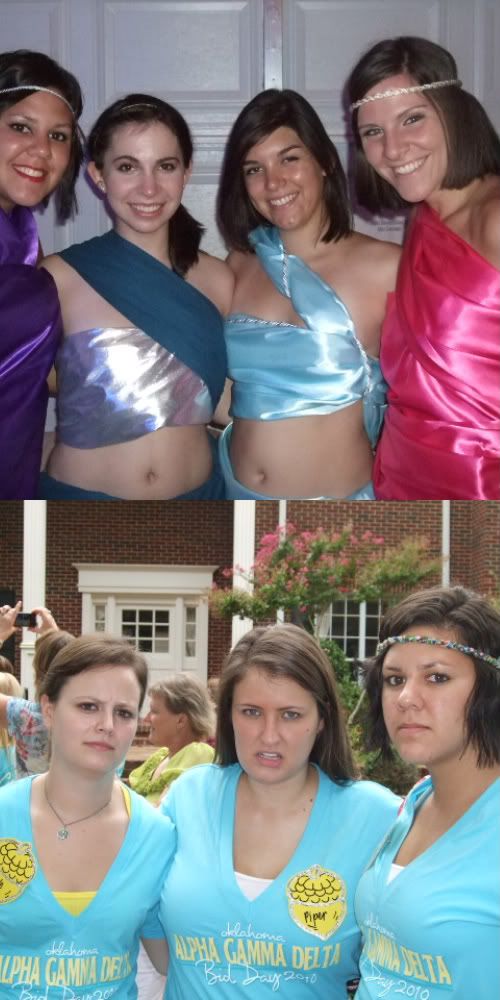 me, Kaitlin, Rachel, and Katy at my first-ever toga party; "The Sarcastic Trio"-Nicole, Piper, me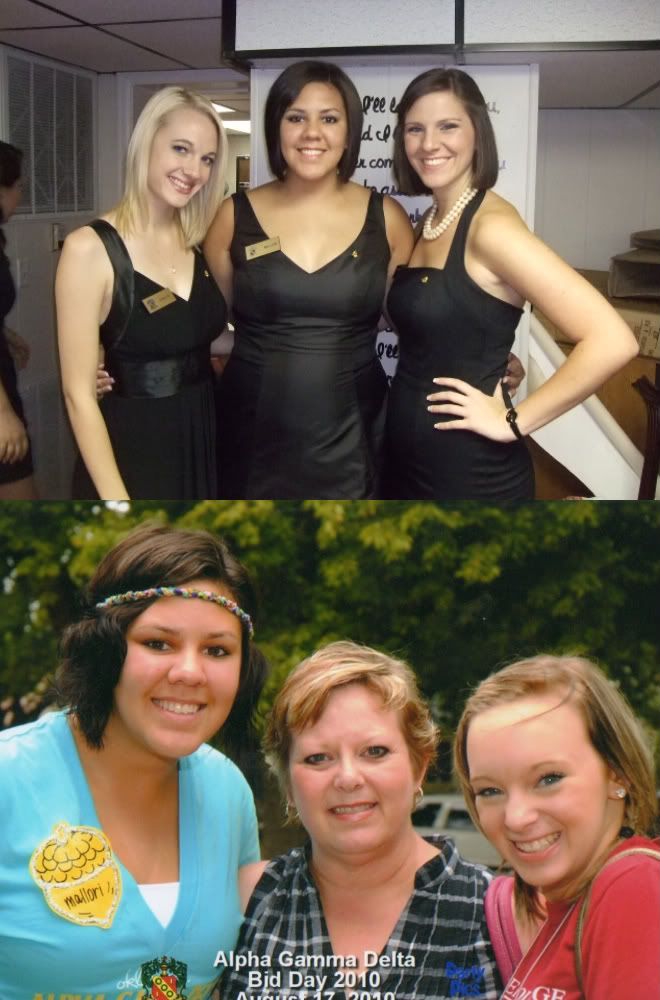 Josalyn, me, Katy on pref night; me, Kathie, and Sam on Bid Day
September began football games, and my never-ending semester of tests, projects, and papers, but not without having a little bit of fun and attending the first date party of the semester. I also joined Alpha Phi Omega, and found within it some amazing new friends: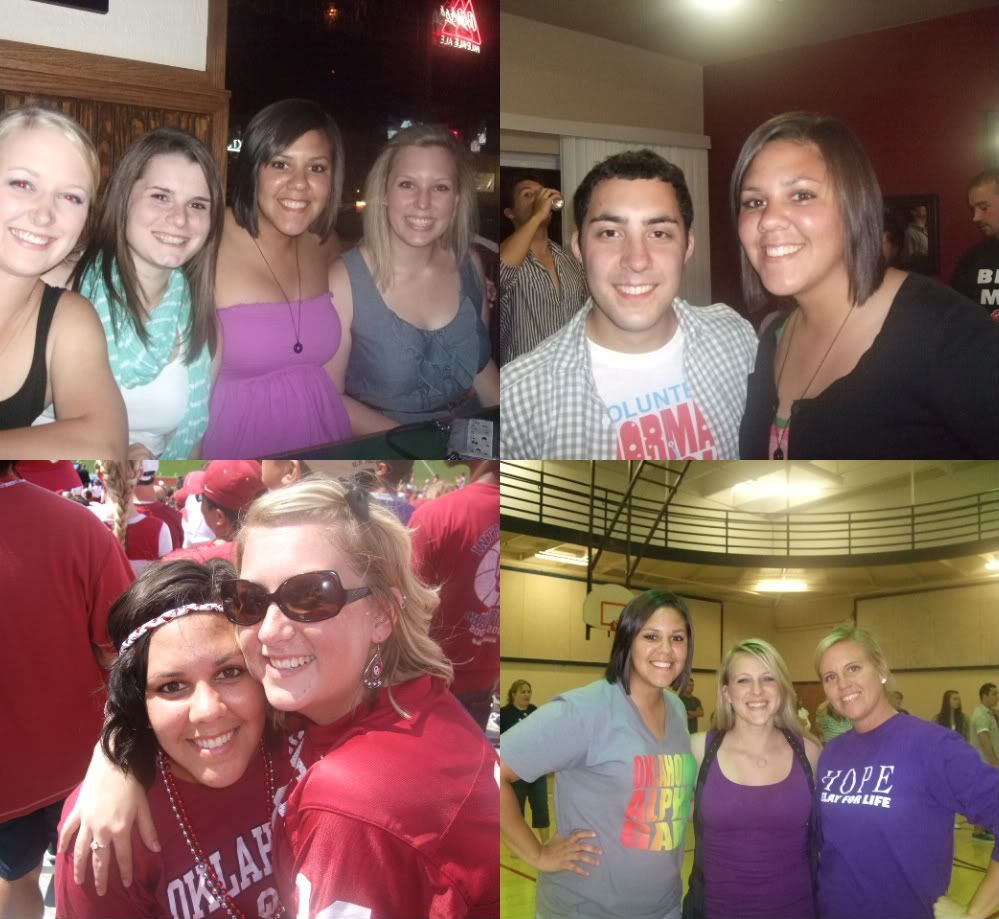 [L-R, top-bottom] Lydia, Kaitlyn, me, and Kate for Lydia's 21st birthday; Andy and I (#STL); me, GinnyAnn at OU vs. Air Force; me, BIG Brook, Twin Courtney for some APO BIG/little love
October is another busy month in sorority land. It was my final OU/TX (celebrated the right way), more football games, another date party, the beginning of initiation, BIG/little, and of course, what is October without homecoming? During homecoming weekend I got my class ring (which I am obsessed with)! I got to go home and watch my baby brother play a couple games his senior year, and the family came down for family weekend, where Jacob and I got to run the State of Oklahoma flag at the football game. Jared was hit by a car, and that saw me returning to Sperry for less than 24 hours. This was when I realized that life is way too short, and tell those you love how you feel about them all the time. I also continued to make new friends through a couple guys I met at the Oklahoma State Fair: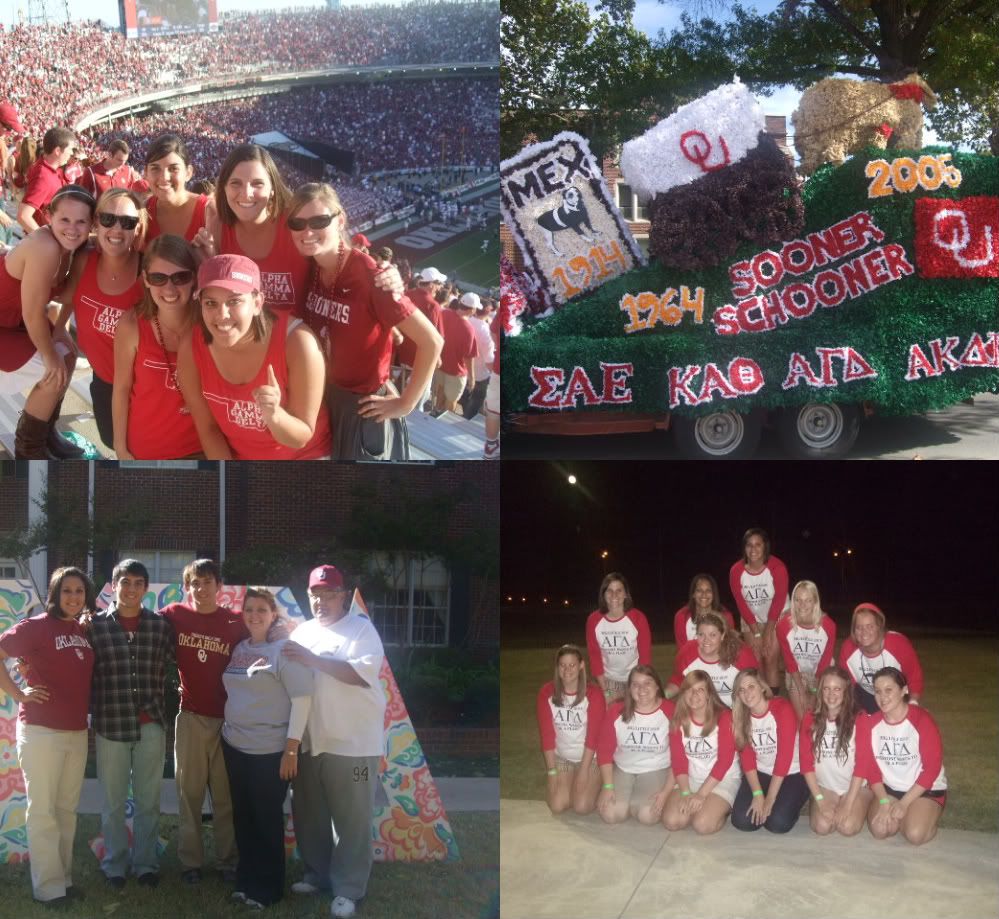 OU/TX: Paige, Kelly, Rachel, Katy, Elizabeth, Michelle, me; our homecoming float; me, Jared, Jacob, Mom, David for family weekend; fall BIG/little (top to bottom) me, Katy, Kristina, Josalyn, Madisen, Rachel K, Abbey (Michelle is missing), Tricia, Stacie, Hailey, Hannah, Elisandra [MY FAMILY IS HUGE!]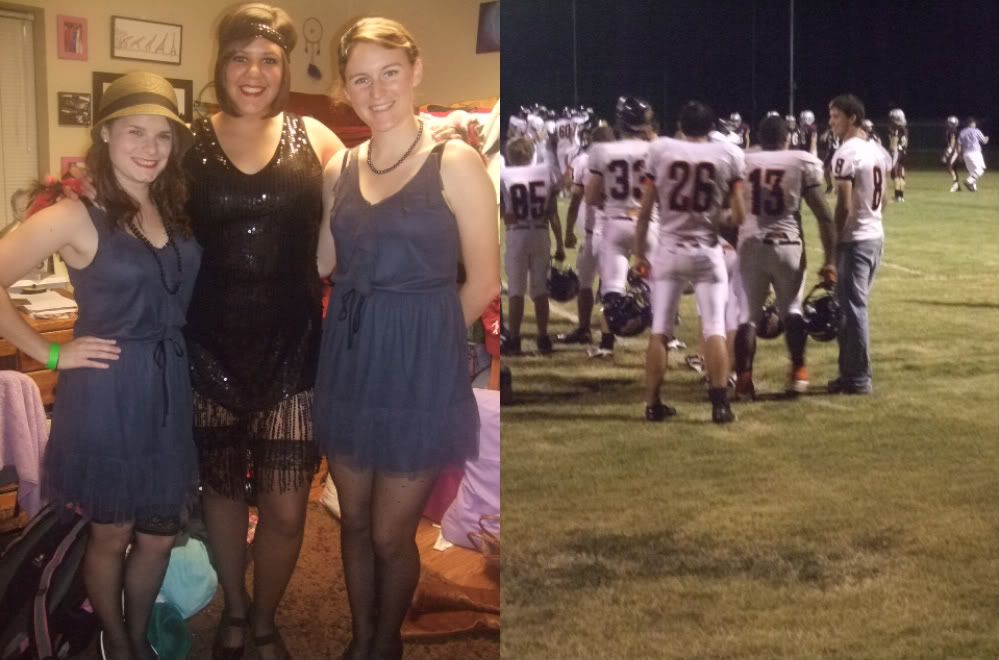 Kaitlyn, me, and Colleen for the Flappers and Fedoras date party; Jacob on the field at his game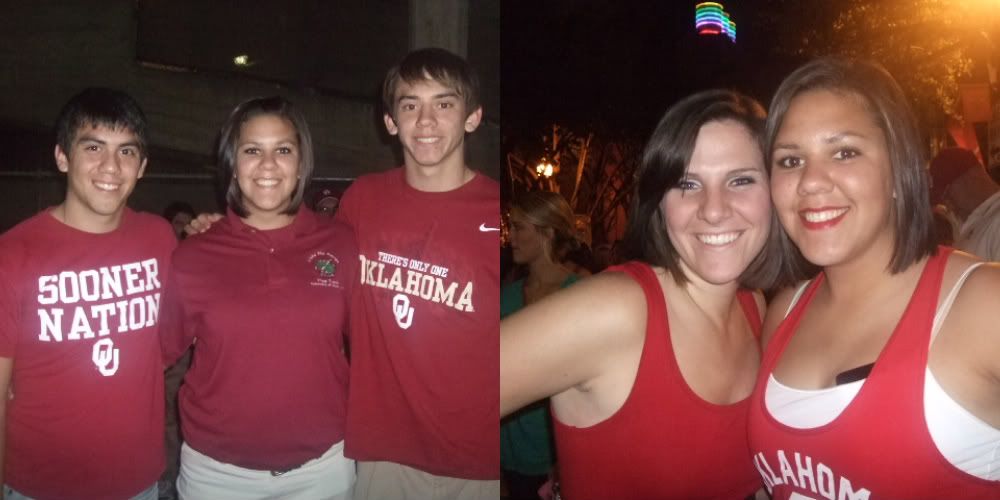 Jared, me, Jacob before running the flag vs Colorado; Katy, me in the West End during OU/TX
November was a pretty busy month for me! We initiated 66 girls into our sorority (quota!), my senior pledge class had a pub crawl, I RAN MY FIRST EVER HALF MARATHON, I attended the bedlam game at Stillwater, and I got to spend a lot of time with friends. I became GOOD friends with a group of guys (Chris, Chris, and Aaron), and got initiated into APO:

Senior Pub Crawl: Colbi, Taylor, Johanna, Kelly, me, Lydia, Karen, Piper, Kristina, Nicole, Corrie; Daniell, me, and Tasha at Cory's birthday bash; Zach, me at Stonewall for my 23rd birthday

ALL 3 APO INITIATION: Max and I, my pledge class, Andy and I #STL
Now that December is here, I have attended the Big XII Championship with Janelle, wrote papers, taken tests, done projects, finished my second to last semester of undergrad, celebrated a 21st birthday, came home for Christmas break, attended many Christmas parties, GOT ON THE DEAN'S HONOR ROLL, and have been preparing my trip for the Fiesta Bowl coming up next week: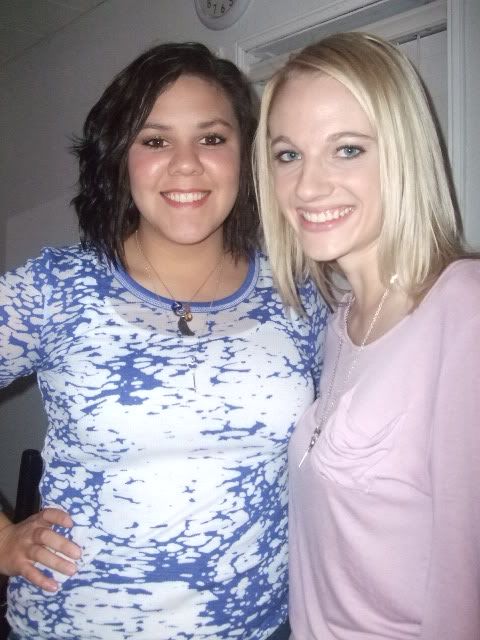 me, Josalyn for Josalyn's 21st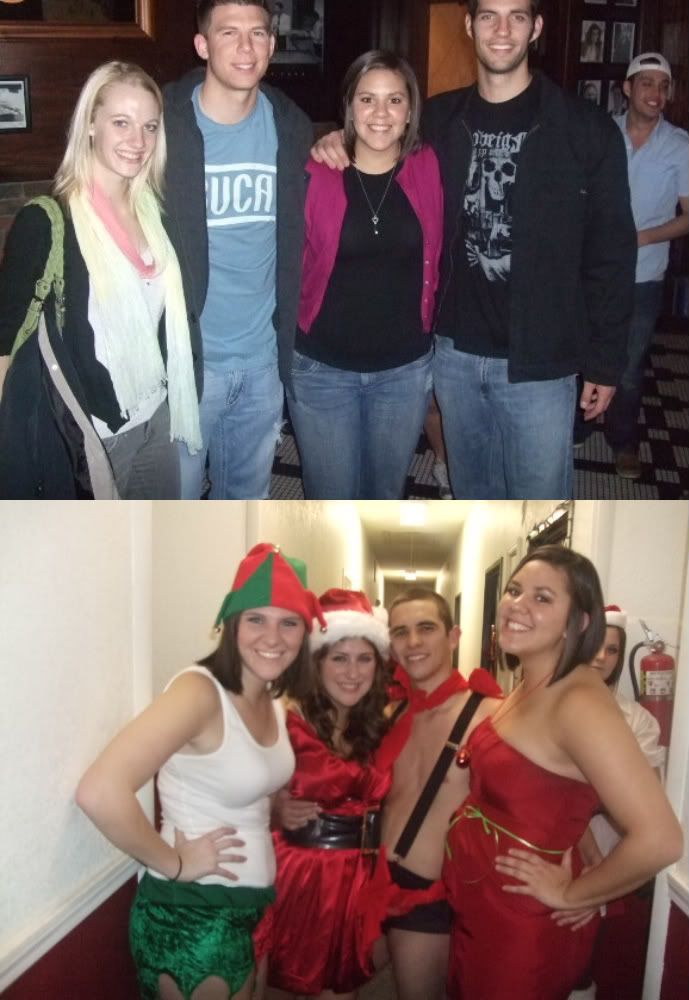 Josalyn, Cade Davis, me, Beau Gerber out on Campus Corner for Josalyn's 21st; Katy, Michelle, Ryan, me for the Kappa Alpha Order Dirty Santa Christmas date party

There are so many other memories that happened throughout the year that I didn't even put on here! These are just some of the highlights! I think it's safe to say that 2010 was a great year filled with many memories and personal accomplishments. With Christmas coming up, I can't wait to close out the year in style! Here's to 2011: May it be just as fun and unforgettable as 2010, with many more years to come!
I hope you enjoyed taking a look at the craziness I got into, and if you do a similar post, let me know! I wanna see the memories you've made this year as well!